April 2008

You can see more of our
April 2008 adventures at
Alabama Homeschooling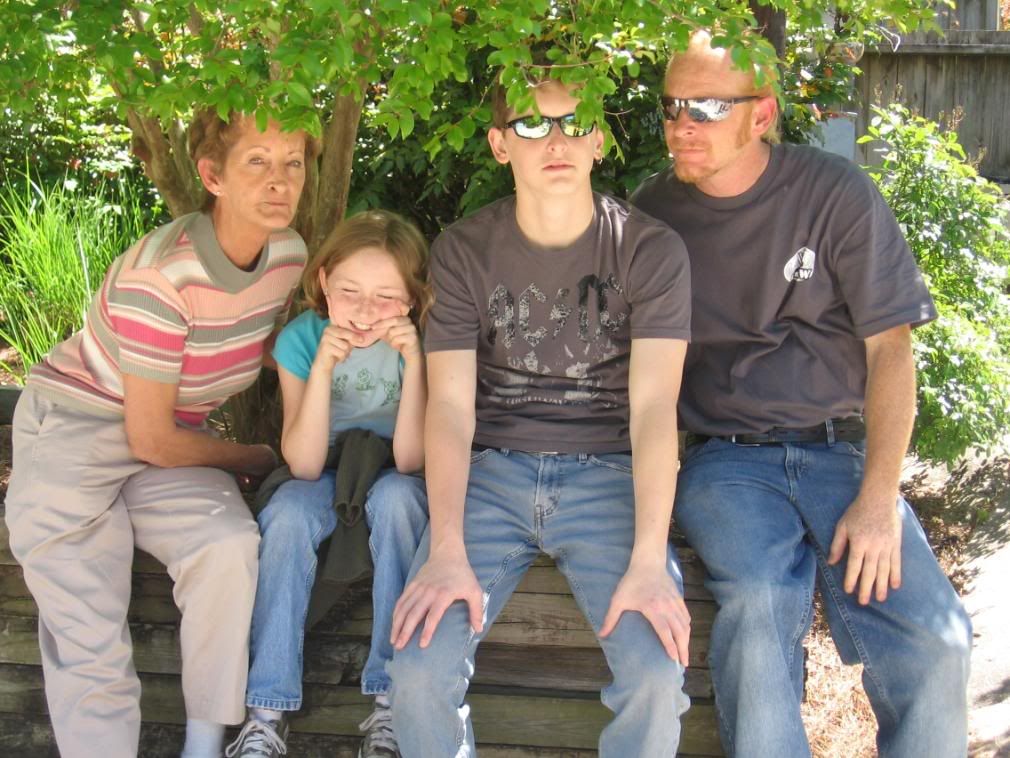 My MIL, Dae, Dalton, and David


April 20, 2008


Today was an excellent, excellent day. We started off at the free zoo day at 10:00 a.m. this morning. It was a little crowded but not too bad. The later in the day it got, the more crowded. Luckily, we were through around 1:00 p.m. just as it really started getting crowded. It was a beautiful day for the zoo. I did notice several new additions such as the Sea Lion Show, the tortoise section, and the camel rides. We did not do the camel rides because there was at least an hour wait, but I know that we will go back to do that another day. There is a little cabin in the Alabama Woods area that has actual preserved Brown Recluse and Black Widow Spiders, both of which are considerably larger than what I had originally thought. There were several things that Dae passed on today that she would have done even a year ago such as storytime, digging for worms, face painting, etc... It is sad and wonderful when your youngest is growing up.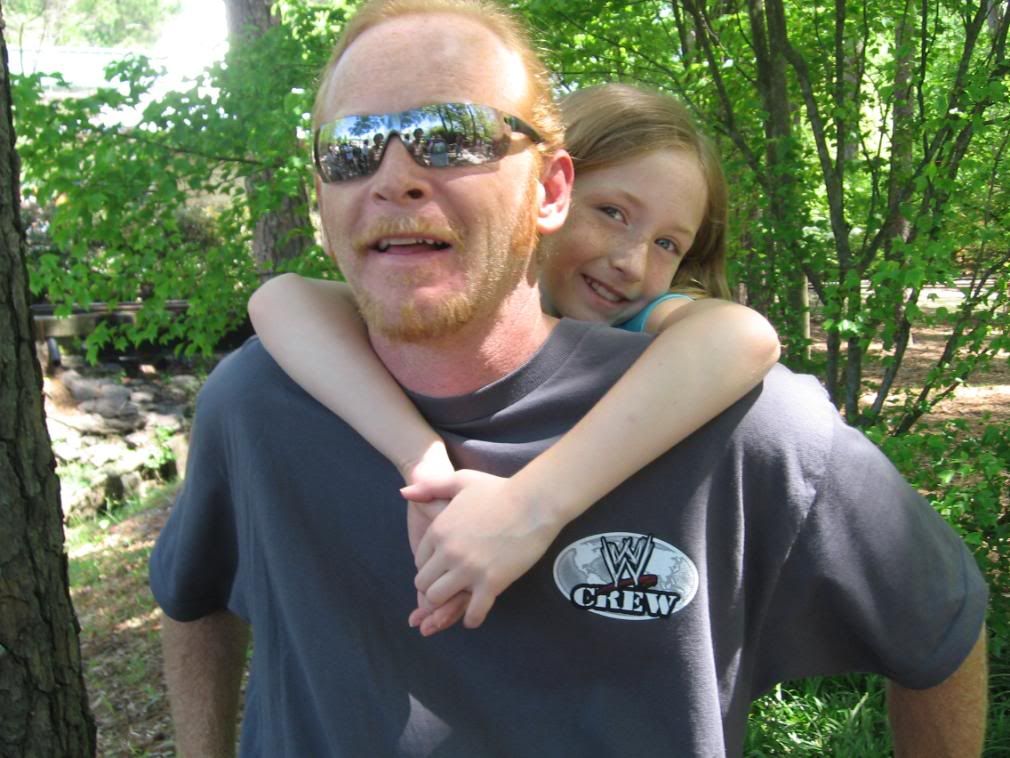 When we got home from the zoo, we rested for a couple of hours and then went fishing. The area that we went to is right where Five Mile Creek and Warrior River merge. It is out in the middle of nowhere. It is along on old railroad bed, and we were able to walk across an old railroad tressel which is really exciting and scary at the same time. It definitely brings to mind movies where someone is halfway across and then comes along a train leaving them no where to go. The train tressel is very high up and gave an amazing tree-top vantage point. Nature Studies: We found a new native fern I have never seen before, Jack in the Pulpit, a water snake from a distance, Trillium, native Ginger, and two rabbits. Dae caught a brim. David snagged a catfish but was not able to reel it in.


Like I said, it was an excellent, excellent day. We have lots going on this week including the Auntie Litter Celebration and parade, the AU Explore Math and Science Day, and a few other things.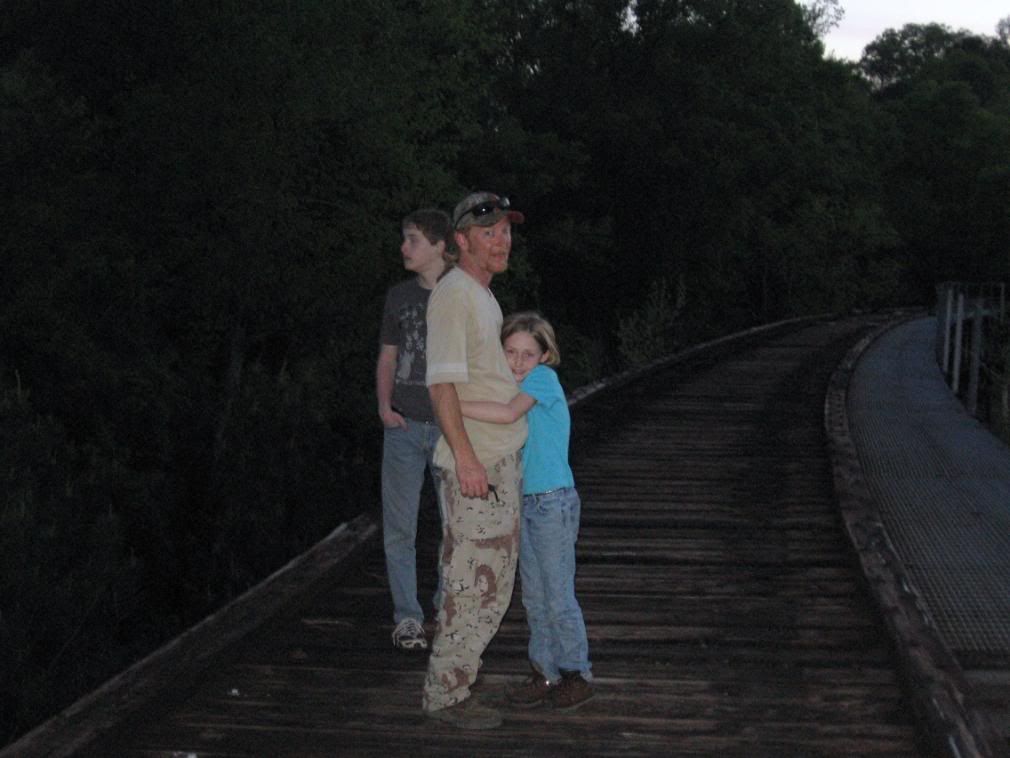 April 19, 2008


Today we spent a good part of our day at black belt testing and the other part of our day outdoors. The black belt testing was the second one we have ever attended, and it was quite interesting. The kids were asked to attend so that they would know what to expect when it comes time for them to test for their black belts. I think Dalton was very excited by the whole event, and Dae was just plain intimidated. Sensai just laughs at her and tells her she just does not realize how good she is. I have to agree with him. She does need to work on breaking wood as she is very squeamish about that. Dalton got to spar in the black belt testing and did very well. They both came home very excited, and we finally had to get a little vocal with them when they were still in the living room at almost 1:00 a.m. kicking, kiya-ing, and sparring. They both have expressed that they want me to start taking lessons with them, so I may have to consider that. I know that it would be a lot of fun.
The other part of our day was spent outdoors. Papa came over, and we strolled through the yard looking at all of the emerging plants. We also pulled over almost every rock in the yard looking for crickets and worms to go fishing tomorrow. We found an awesome ant colony with tons of eggs. We also found an old landscaping timber that had decayed and been turned into an ant colony. That was pretty interesting. Papa wanted one of my yuccas, so we dug one up and cut a good sized hunk of the root off for Dae to make washing liquid out of like they did in the pioneer days. We will experiment with that sometime tomorrow.

We have big plans for the rest of the weekend and into Monday. Tomorrow we are going to the free zoo day and taking Nana. Tomorrow evening we are going to go fishing. I hope we find some tadpoles, a frog, or a turtle to bring home. Dae has already prepared a habitat just for her summer friends.

We are also going to hit Wal-Mart in the next few days to get both of the kids new bikes. Dae has had her's for several years, and it is WAY too small for her. Dalton's is in poor repair and needs replacing. Hopefully that will help them to want to spend a little more time outdoors during daylight hours. Our goal is to give them new things to focus on so that they will focus on playing video games less. We don't want it to be coercive or punitive, rather to offer them quality alternatives.




April 14, 2008


We got started on our first veggie garden this week. We have always done little things like tomatoes and peppers every year but have never had a full-fledged veggie garden. We bought a new tiller and tilled up a good sized area in the back yard. I take all of that back. We have done a veggie garden for several years at my mother-in-law's house but never had the full responsibility in our own back yard. I have a neat book about gardening with kids, and this week we will go through it and do some projects and decide what we will plant. I know we will have tomatoes, cucumbers, peppers, and some sort of melon. We also plan on planting marigolds to help with any pests. I am hoping to incorporate a forest walk to gather branches to make trellises for any kind of running plant. It was also awesome because at the time we were making the garden bed, we were reading about Addy, the American Girl, planting a garden with her family.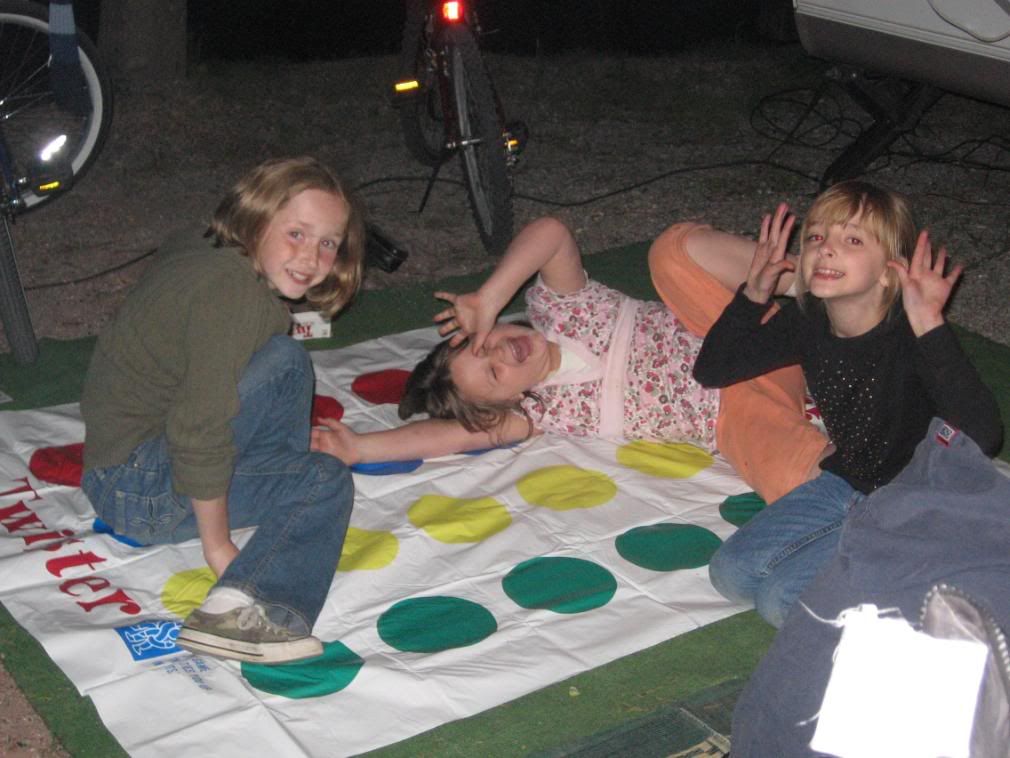 We had a great time at the Teen Scene Tannehill outing. We did not end up spending the night but did spend the whole day and into the night. We grilled out, played ball, ultimate frisbee, and went hiking. When it got dark, we had a fire, roasted smores, and watched a movie projected on a big screen. The kids also played games on an outdoor television. It was really a good time. I want to go back to camp when it gets warm enough to play in the water. I was really happy that David went with us. We rarely can talk him into going on an outing, but I think he really had a good time. There were a couple of other dads there as well, so that helped. The whole outing reminded me of how much we need to start going camping again as a family. The camping parks are just such good fun, with mostly good families there, fresh air, adventure, etc... I want to go back soon.

April 6, 2008

Wow! It is a beautiful day! We took yesterday to recoup after a busy week at Dauphin Island. We were pooped! We spent most of today outside getting ready to plant our tomatoes. Of course, we did get sidetracked by the tons of rolie polies, the fat little lizard with the stubby tail, and the native plants we found. During the week that we were gone, the hostas, Dogwoods, native plants, ferns, Azaleas, and tons of other plants came out in full bloom... I love this time of the year.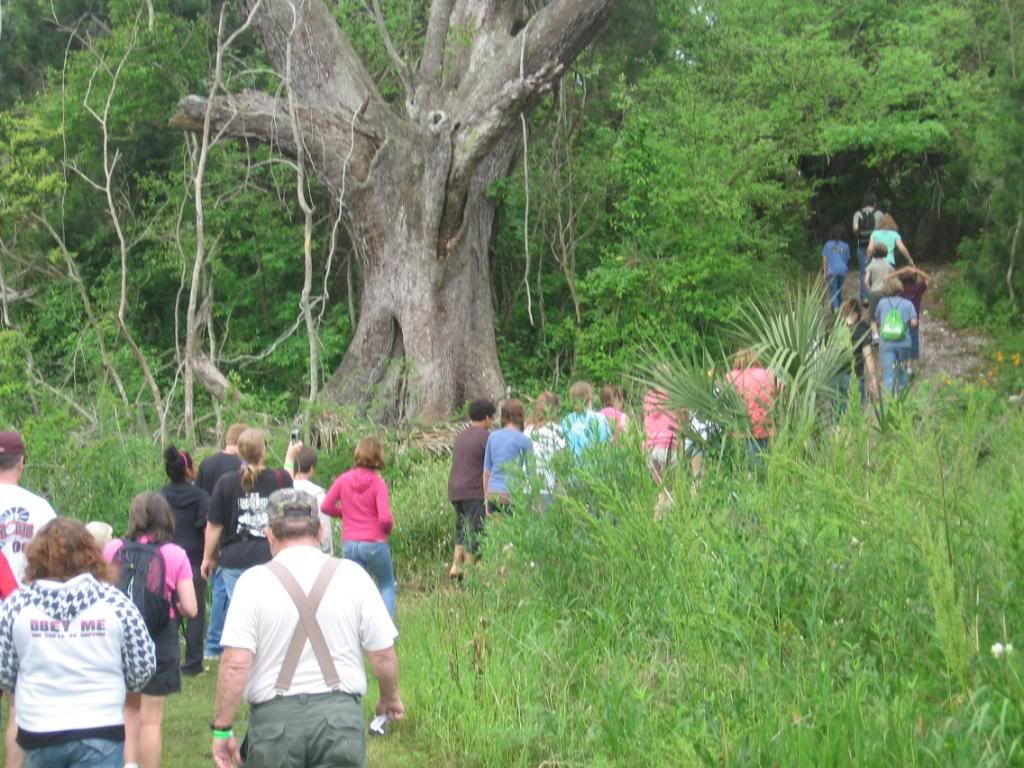 April 4, 2008

We spent the last day of our trip to Dauphin Island learning the history of the area. We learned about the Indian Mounds which turned out to be the local landfill. Apparently the whole island is flat except these mounds. They initially thought these mounds to be the burial grounds for high ranking Native Americans, but this myth was busted when all they found were oyster shells. There is an area close by where all you have to do is walk out into the ocean a short ways to harvest oysters. The Native Americans did not want to haul all of that weight, so they would shuck them right there and throw the shells into the mounds. It is now a beautiful natural area with tons of native plants, hills, beautiful old trees, and paths to roam around but once this area was the island "dump". People from around the world come here to bird watch.

The picture below is of the "Marriage Tree". The Native Americans would request that the local "holy man" would come, and then all of the couples that wanted to marry would stand under this tree and be married.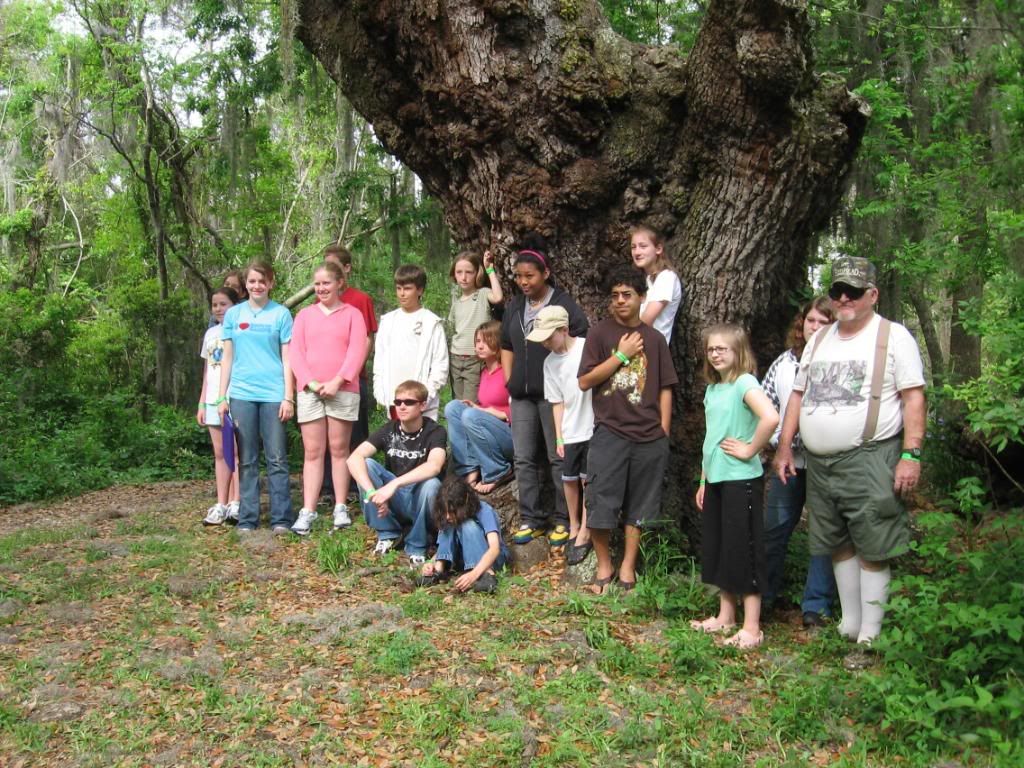 We also visited Ft. Gaines which is where "Damn the torpedos! Full speed ahead!" was made famous. We had a guided tour that was very informative. We also got to watch a blacksmith at work. He made a really cool horse out of horse shoe that I bought for my brother. Dalton especially loved watching the demonstration and stayed behind and watched and talked to the blacksmith for a long time.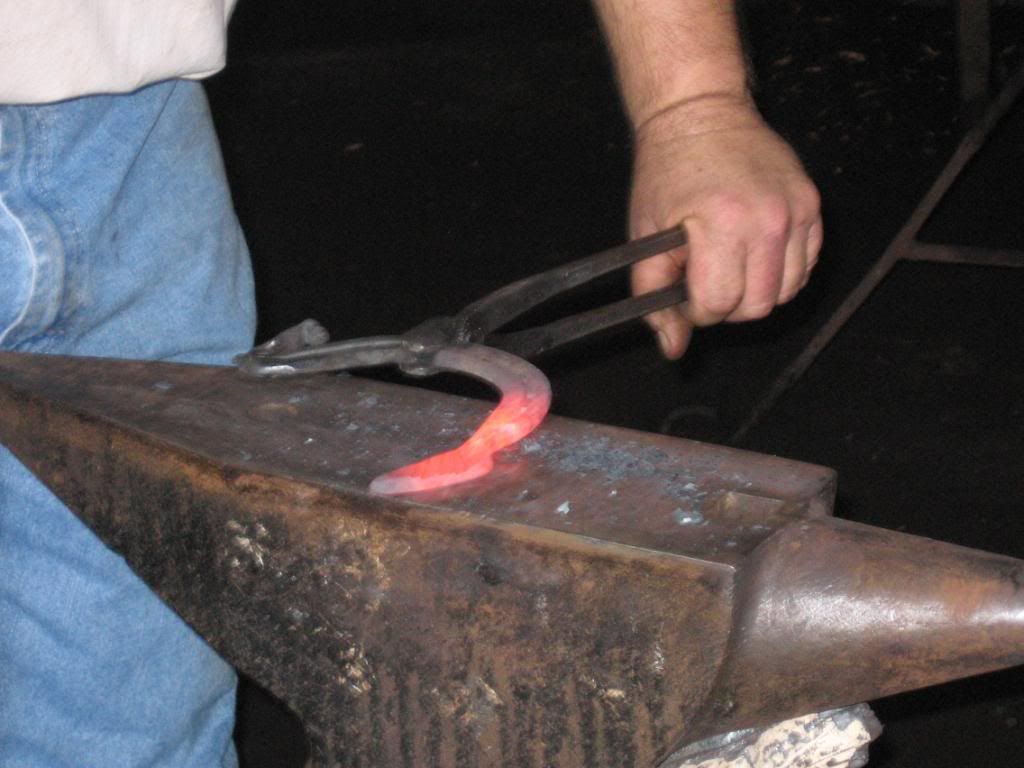 April 3, 2008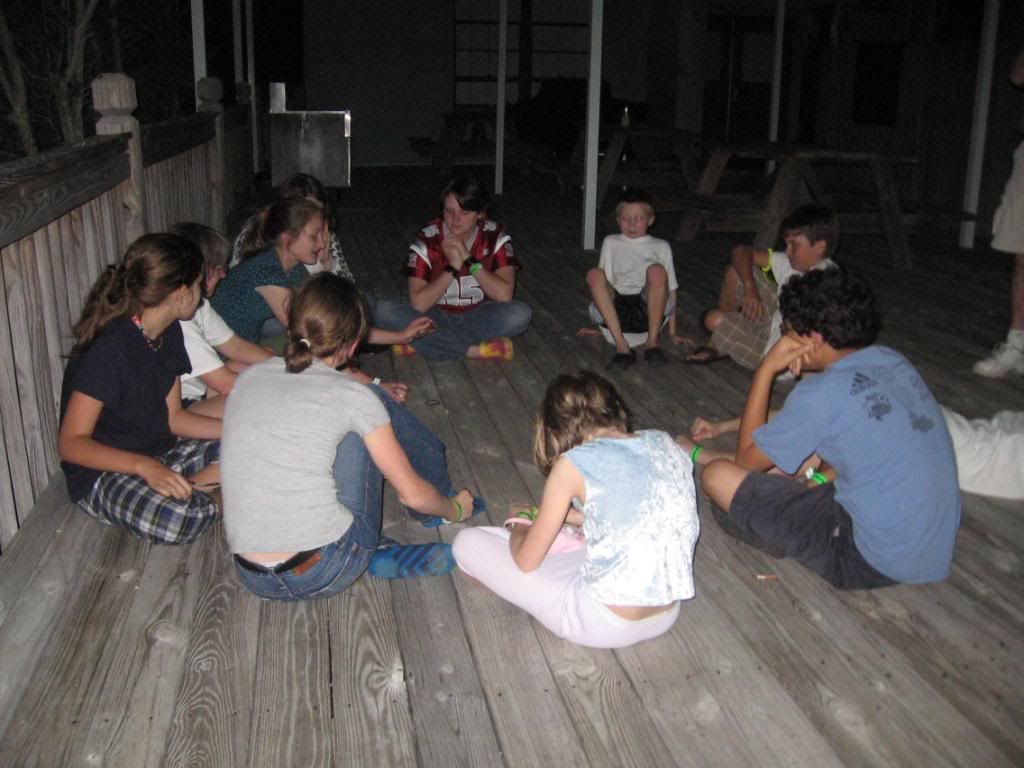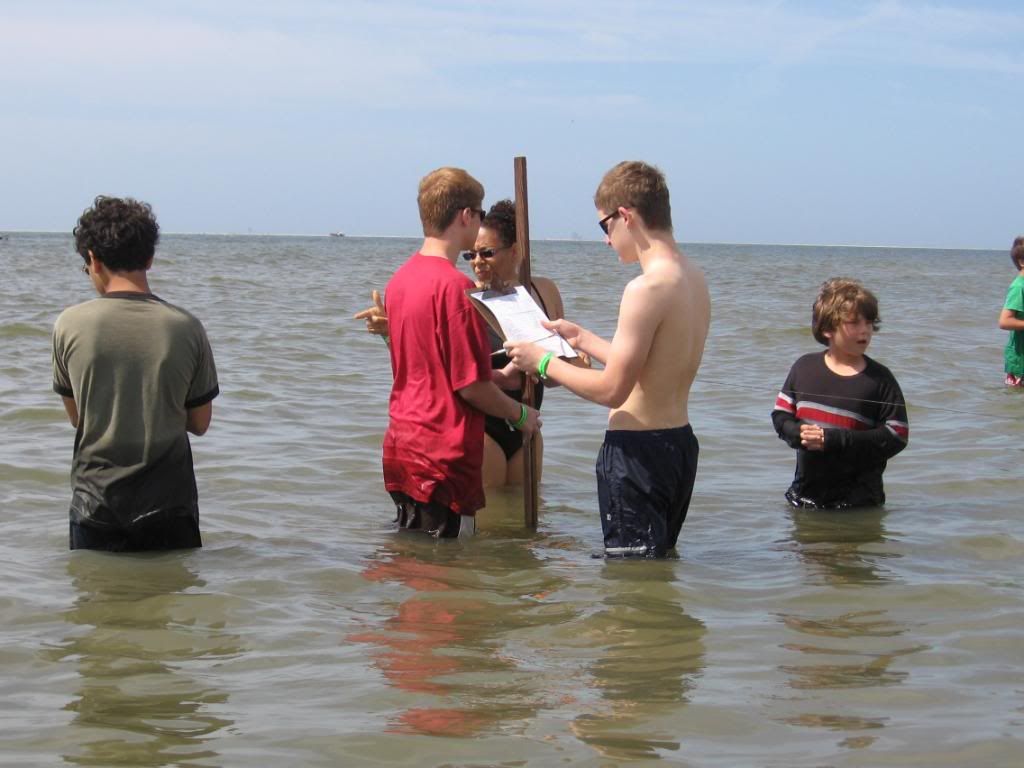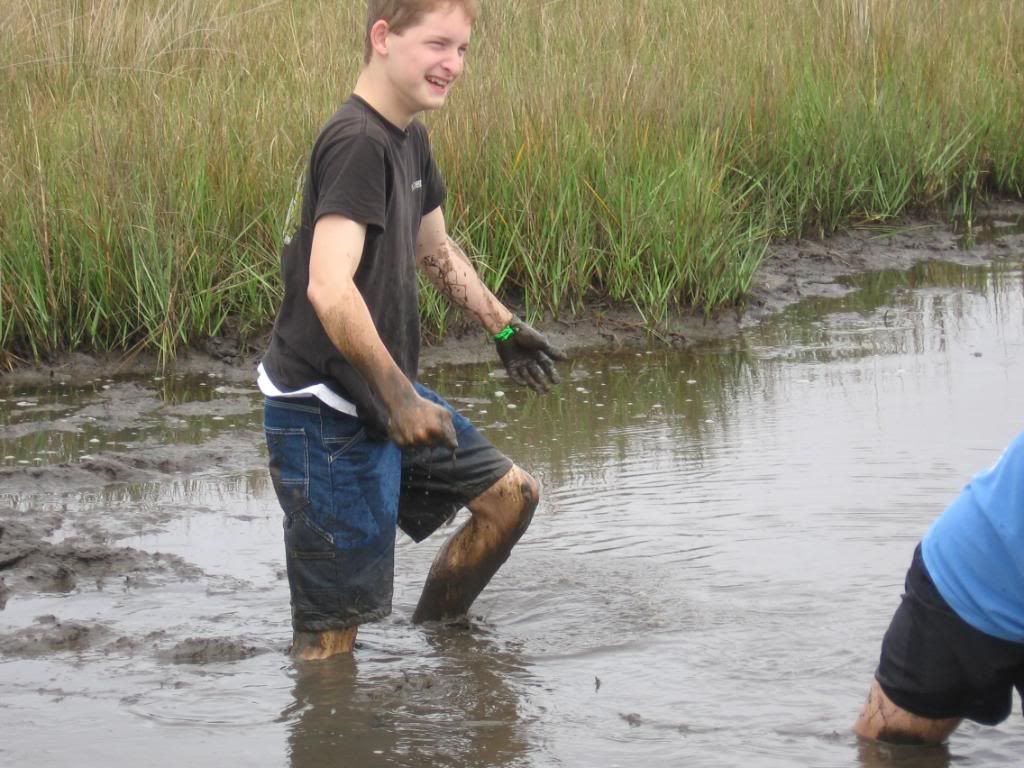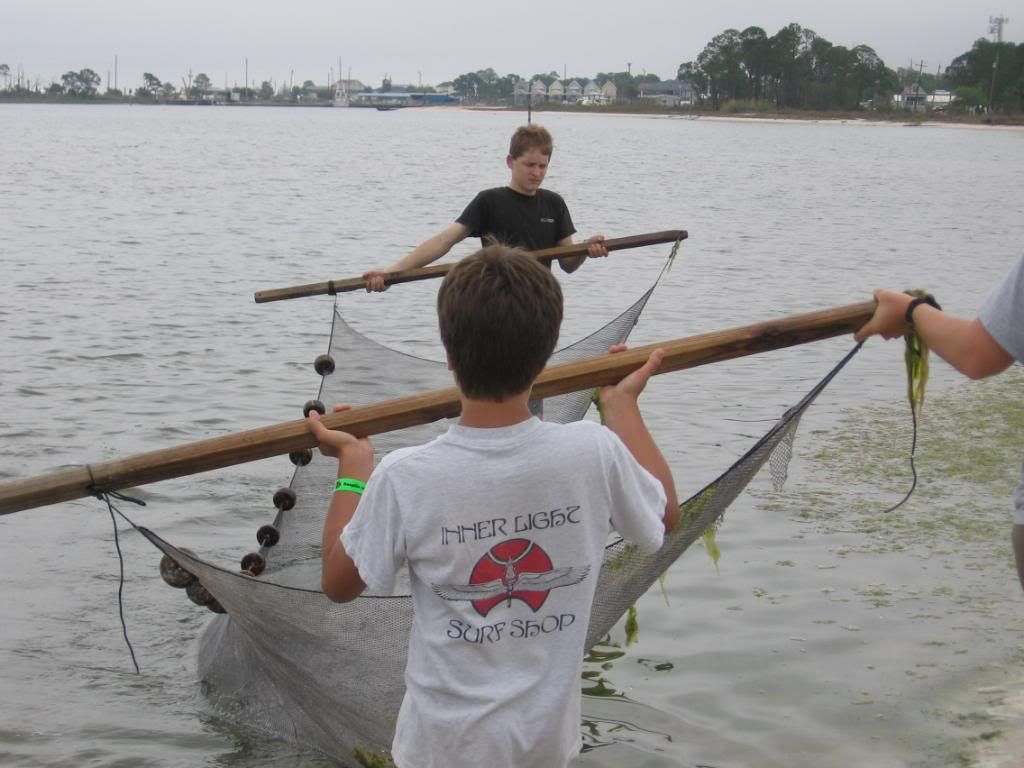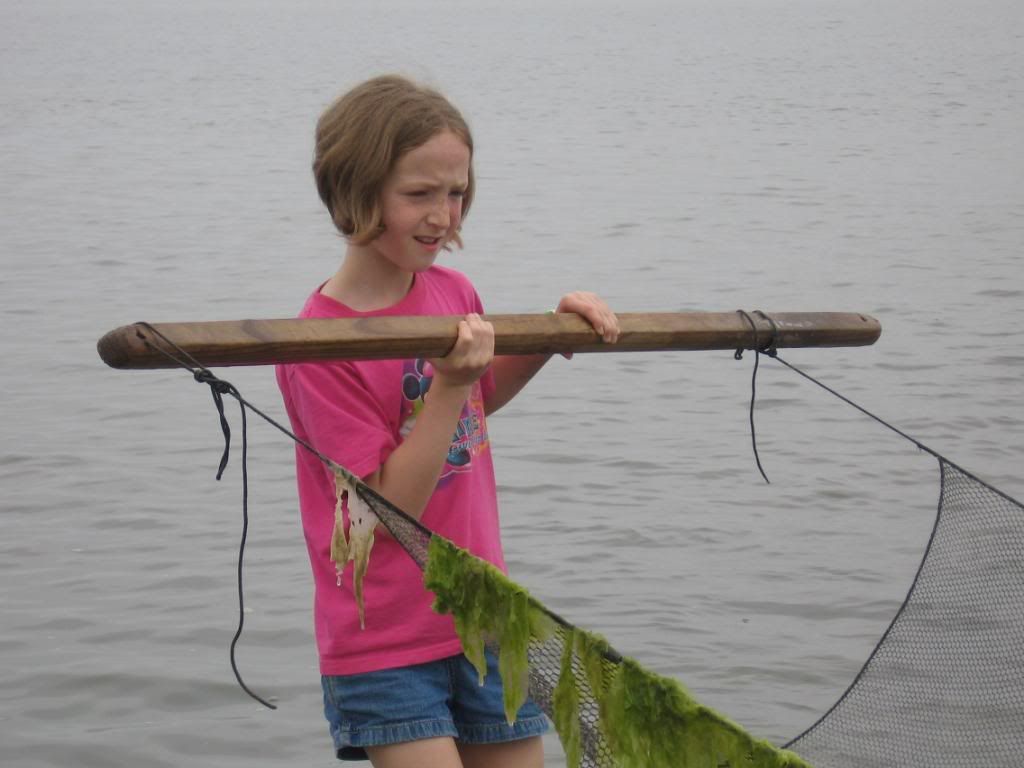 March 31, 2008

Our ride down to Dauphin Island was not that bad at all. One of the things that we noticed on the way down was a lack of Spanish Moss. Usually you see Spanish Moss everywhere as soon as you hit the Montgomery area, but we did not see any at all today. It was really cool to cross the bridge from Mobile over to Dauphin Island. It must be a good couple of miles long and has one point in the middle that goes almost straight up. It is a huge "woopity-doo" hill. I imagine this is where boats would pass under. I was really surprised to see all of the "mini islands" in between Mobile and Dauphin Island. The water also looked very shallow. you could see straight through to the bottom. There were tons of birds everywhere.

When we arrived at the Dauphin Island Sea Lab, it was pretty chaotic. The person who was supposed to greet me and give me the low down was not in the office, so they just handed me an envelope and sent me on my way. When we got to the dorms, I was in for a surprise, not necessarily a pleasant one. Each and every door to each room had to be individually unlocked. With everyone there and waiting, this was quite a pandemonium, as you can imagine. Ed Land and Tammy Martin were a big help in getting this accomplished.

The group then headed over to the estuarium. the estuarium is very small but quite nice. I do wish we could have gone to the estuarium again after we had done the other four days of programs. I thinks it would have meant more at that point. It was interesting to see all of the different creatures that they had found in the very waters that we would be tromping over the next few days.


After visiting the estuarium, we visited the boardwalk and got to watch a pod of dolphins jumping and playing in the water. We basically spent the rest of the day just hanging out, letting the kids and adults get to know one another, playing games, etc. It was really kind of nice to have that down time after the long drive and before the whirlwind of activities during the rest of the week.