October 29, 2007

Today was a movie day! I think we are all just worn out. We did watch "Troy" with Brad Pitt. Tomorrow Dalton and I will research the website that goes with it and see what discrepancies we can find between fact and the fiction of the movie. I had seen the movie before, but Dalton had not. He said he really liked it.

We also went to the doctor today for Dalton's knee. The doctor said that he had a knee strain and needed to build up the muscles around his knee. Tomorrow we will research some rehabilitation exercises that he can do and also visit the Graysville Community Center to see if they have a leg press there. If so, we will go ahead and join and start working on that. He also has to take an anti-inflammatory twice a day for a month. Hopefully this will take care of it and he can get back to Yoshukai and tennis. It is really bugging him that he cannot do either one right now.

Dae made the most fantastic backdrop for her crabitat yesterday. She took some scrapbook paper of the woods and some of the beach and put it on three sides of the tank. It looks really good. She also rearranged the tank and gave her crabs a bath. I really hope nothing happens to these crabs. She has gotten so attached to them.

We have had a ton going on. I will give it to you as it is listed in my calendar: Tuesday we went to the Pompeii exhibit. Luckily for me, Dae had gotten a little exposure from the crafts she did at the Fiesta and from a Scooby Doo episode (of all things). The exhibit was excellent. With our tickets, we also got an audio tour of the exhibit. The frescoes were gorgeous as well as the jewelry, artwork, statuary, etc.. Of course, the devastation of it all is horrendous. We followed up the exhibit with a couple of books from the library, a movie that we will watch at some point this week, a interactive volcano we found on line, and a couple of websites.


Thursday was really wet and cold. We had a VERY full but fun day. We went to a field trip at the Aldridge Gardens called "Life Cycles". Both of the kids were able and enjoyed participating. They started out with discussing complete and incomplete life cycles including the life cycle of the mealworm. They got to include art and searching for insect, which, of course, is right up Dae's alley. Then we headed over to the Galleria for the teen/parent book club. That was tons of fun with a ton of teens. We all ate lunch, discussed the book, and roamed the mall. I think all of the teens had a blast.

Friday and Saturday were both very full as well. We had park day and Teen Scene on Friday. Ms. Vesta taught the kids yoga, which Dae loved. We then headed over to Cici's Pizza in Homewood and then went and watched "Balls of Fury" at the $1 theater (not Dae). Dae spent the evening hanging out with her buddies at the Bidwell's. Saturday we were on the go ALL DAY! We hosted the movie day at the Graysville Library, visited the Fall Festival at Victory Christian where they take Yoshukai, Dalton volunteered at the Graysville Community Center Fall Festival, and then we split up; Dae and I to go to a party at the Blankensopp's and David, Alex, and Dalton to go to a spook trail. Needless to say, Sunday I was exhausted.

Sunday was a total pajama day. Dae and I watched "The Bridge to Terabithia". I did wash several loads of clothes, but that is IT! If David had not cooked for the family, we would have starved. They were not even gonna get peanut butter and jelly from me. I could hardly move. I did read a little and play cards with Dae.

I think I have exhausted what I have to say for now, but I will write more later!

Deb



October 20, 2007

I have been sitting here at the computer for the past hour looking for videos and books pertaining to Pompeii. It hit me today as Dae and I were walking through the Birmingham Museum of Art, that we are going to the Pompeii exhibit in just a few days. We have not prepared for it at all. Luckily for me, the museum had several crafts giong that promoted the exhibit. Dae did an "archaeological dig" for coins, jewelry, and other "artifacts". She also made a laurel wreath and was able to help several volcanoes "explode". We also visited the "Wedgewood" exhibit inside the museum that was basically scrolls and vases from the Roman and Greek era. Dae also got to put a magnet mosaic together. It was a start, but she really does not even understand what Pompeii is or the significance and tragedy of its story. Oddly enough, as we were watching Scooby Doo the other day, it was all about Pompeii and Mt. Vesuvius. I have ordered a couple of movies, some youth fiction, and some nonfiction. I will also hunt for some websites for before and after we go. There are also several lectures that will be coming up that we will try to attend.

Also today at the museum, we visited the modern art section, which I was glad to see that Dae was open to. Abstract art is my art of choice if I were to have it in my household. We may work on some art over the next couple of weeks. I have some canvasses that need using. We also visited the Native American section and the African section. In all of our visits to the museum, neither of us had ever been in the African section. It was very good. There were lots of ceremonial masks, everyday items, an Egyptian tomb cover, a door cover, and many other items.



The reason we were at the museum today was because we were visiting Fiesta at Linn Park which is directly in front of the museum. Fiesta is a Hispanic celebration, and we were visiting there with the American Girl Club in honor of Josefina. Dae dressed up like Josefina and looke very beautiful. I could tell that she felt that way the way she was twirling her skirt and dancing along. I always love going places like that with Dae because she is so interested and loves it so much, but she is so generous in what we see and do. She is open to whatever. I love to be walking along and feel her little hand reach up and take mine. I never have to worry about where Dae is. She sticks right with me. We got to see a band play with a couple dancing, talk to many Hispanic people, eat authentic food, receive literature, look at booths from many Hispanic countries, and hear a storyteller. It was a lot of fun.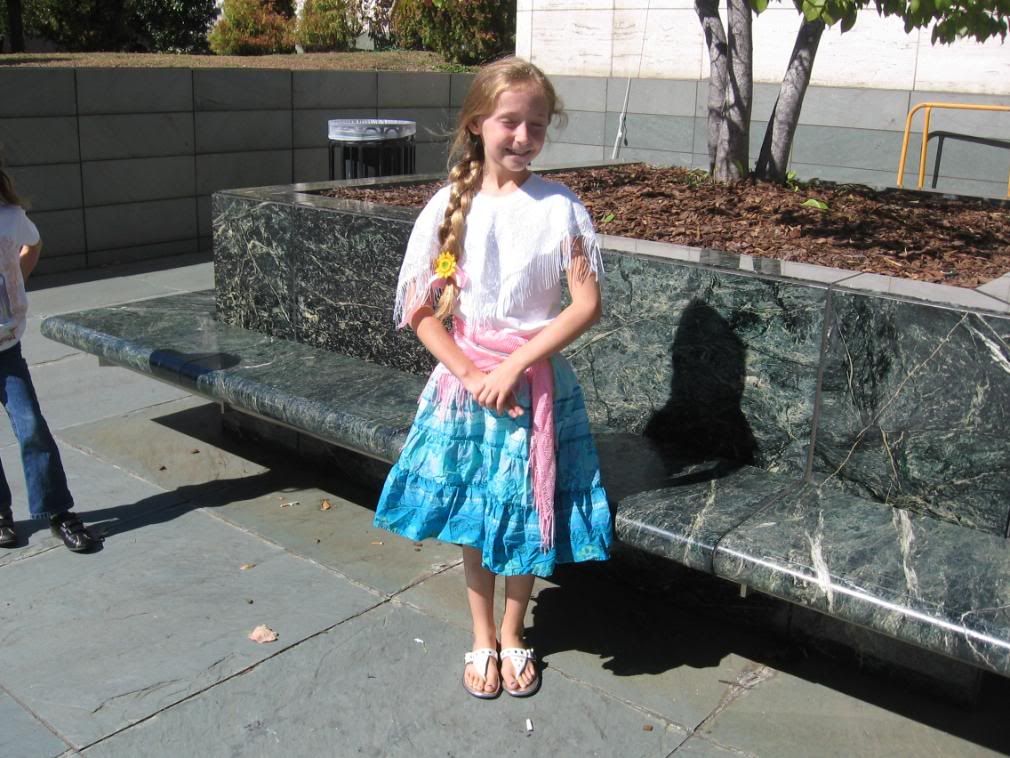 Dalton did not go with us today. He had a buddy that he wanted to visit, Thiery. They hung out for a while, played video games, and played tennis. He said he enjoyed himself. Dalton came home and played an online game about Greeks, Gauls, Teutons, and the Japanese. You can set up a trade empire, or you can conquer the known world. He just finished a book called "The Lightning Thief" and is about to start a Maxx Barry book called "Syrup". He has also been working A LOT on his MySpace and even took pictures of Damien, Pretty Kitty, Dae Dae, and Billy The Kidd. We worked on downloading from the camera to the computer and putting them on his MySpace.

Dae has gone to spend a couple of nights with my mom. They are going to work on learning to use the sewing machine before it gets sent here. I told my mom that she had better teach her well and make sure she knew how to use it because I do not have a clue. Dalton and I are going on a date tomorrow to the Bavarian Philharmonic at the Alys Stephens Center.

Talk later,
Deb



October 18, 2007

Bluch!!! I just don't feel well right now. My head hurts just a little and my tummy doesn't feel well. I hope I am not coming down with anything. Dae says she doesn't feel great either, and Dalton even took a nap this afternoon, which is highly unusual for him. I hate to be sick, so I hope we are not headed there.

Dae played with her hermit crabs for the better part of the day. She got out two of the plain shells and painted those and then set them up a new bathing area. She has discovered that they like to eat barnacles and sand dollars for the calcium, so she has decided to make them a nutrition bar by taking the sand dollar and dipping it into baby food and then rolling it in their food. Where does she get this stuff?

We pretty much stayed home all day except for a quick visit to the library and post office and then Yoshukai class tonight. Other than that, we just relaxed today. We got out winter clothes and starting culling some clothes for the "get rid of pile". We also put out some Halloween decorations. Dae helped me to cook pancakes this morning. Dae also asked me to help her with piano this afternoon. She played the first few bars of "Fur Elise" perfectly. With some practice, she will be much better than I ever was. I don't have much else to report. It was just one of those days that you just love to have.

Deb



October 17, 2007

We spent most of the day at the McWane Center today for Dalton's science class. He is enjoying it and says that he is learning. I think he also enjoys getting to see some of his buddies as well. Dae got to play in the Sea Monsters paleontological dig area today and really liked that. Dalton said the subject matter in his class today was confusing so we will be looking it up on the computer tomorrow to see what we can find. We also watched about half of the first episode of "Roots: The Next Generations". I think a lot of the innuendos are over Dae's head, but she is getting the gist of it. Dalton and I cooked a beefsteak pie tonight which came out of the Felicity cookbook. It was a really good pie. I think we will try it again sometime and add some vegetables to the pie. It was a good day overall; however, I am happy to say that we have nothing planned for the next two days!!!!

P.S. Some copper that my hubby was going to recycle got stolen out of yard today...about $500 worth. He is mad mad! I hate to see what comes of that over the next few days.

Deb
October 16, 2007

Poor little Violet (the hermit crab). At some point during her molt, she passed away. Dae was so upset. We removed her from the crabitat and then went for a visit to Ed's Pet World and got her Sweetie. Sweetie is a teeny tiny little hermit crab who is very feisty. I hope she does well in the crabitat with the big 'ol Pearl. They seem to be getting along pretty well, and Pearl is actually being very active again. She must have been lonely. Dae was very excited and took them both out an introduced them and gave them a bath.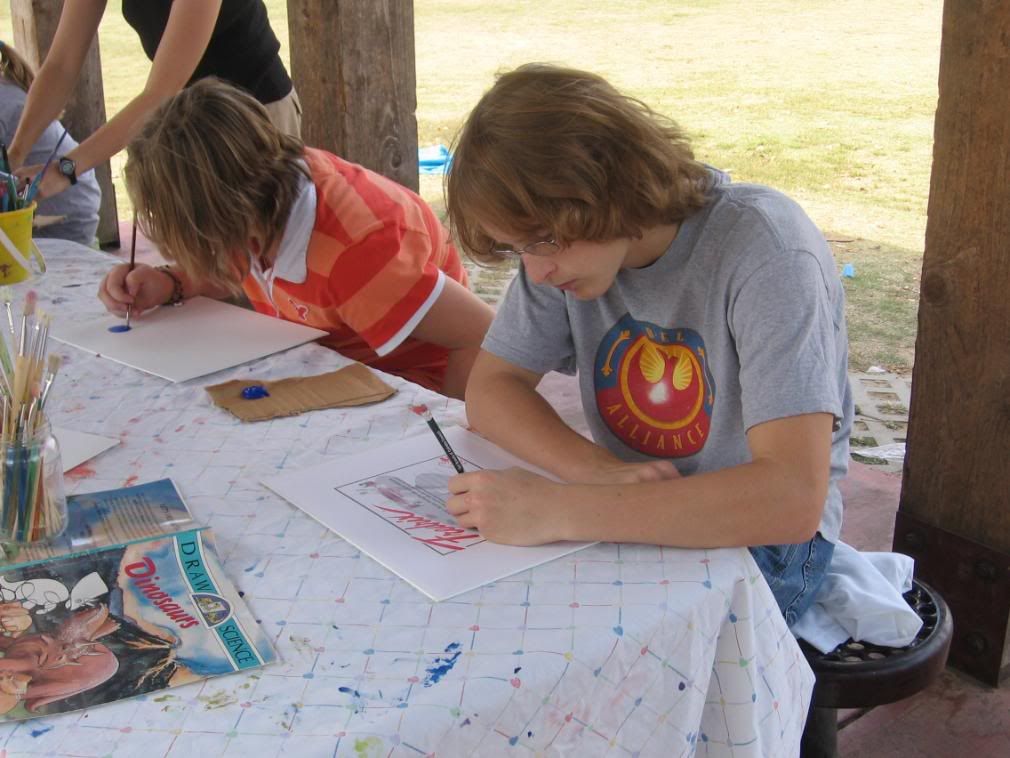 We also went to Homewood Park today for Painting for a Cause. This is a program where the kids were invited out to the park and asked to paint and donate their painting to be sold for a ministry called The Daniel Cason Ministries. The kids really had a blast. Dae drew a picture of Pearl, and Dalton drew a picture of a road going from wide to narrow in the distance. It was a lot of fun and there were a ton of kids there. Dalton left with the Bidwells, and Dae invited Autumn, Bri, and Anna home with her.


After Painting for a Cause, Dalton decided to go to tennis practice with the Bidwells at Avondale Tennis Courts... Guess what? Now he wants to take tennis lessons twice a week. Geez! Of course we will find a way, but I cannot even fathom fitting that into our schedule at the present. I am going to have to work out some sort of carpooling situation for this one.

On the way home from the park, the girls and I stopped at Walmart and bought fabric for Dae. She is going to Mamma Nana's this weekend to practice sewing on her new sewing machine. She will go over Saturday evening and come home on Monday. She will have a blast as usual at Mamma Nana's. We bought her four different fabrics. Three were off the $1 rack, and one was a little more expensive. We also bought a pie crust for a pie that Dalton has been wanting to make. We will try to get time tomorrow evening after McWane Center classes to make that.

Did I tell you about the duck egg? A lady from Yoshukai gave Dae a duck egg that she is pretty certain is fertile. She is going to bring us some more. We are going to set up a makeshift incubator and see if we can hatch them. I have been researching it on the web. It should be interesting to say the least.



October 15, 2007

Last night Dalton went to Atrox with Teen Scene. Thanks very much to Lisa Hicks for setting it up and to Eddie McAnnally for taking Dalton. I was really tired and really have NO interest in a spook house. Dalton and Alex really liked it and came home all excited. I am so glad that the teens get together to do this kind of stuff.

What's on our agenda for the day? Well, we just started watching "Roots, the Next Generations"; however, Dalton said that he does not remember "Roots" all that well. We watched the series last year, and when Dalton saw "Roots, The Next Generations" advertised on T.V. he wanted to watch them. We will probably watch this series and then go back and watch "Roots" again. We also checked out "The Bridge to Terabithia" that we will probably watch this evening. Dae also started a new ant farm this morning, but we started it with brown dirt, so I am not too sure how well we will be able to see the ants. If it does not work, we will go back to sand. Dae also did a sand and shell craft this morning from shells and sand that we brought back from Gulf Shores. It is basically a "beach in a jar" kind of thing. She also harvested and painted a pumpkin she grew for Halloween. Dalton has started his MySpace but is having trouble with it, so I will sit down with him later this evening to work on that.

What are we reading right now? Wow! Dae just finished her first "big" book. It is "Ginger Pye" and 306 pages long! Go Dae Dae!!! She is so proud of herself. She is now reading "The Quest for the Wand" which is a new Disney Fairy book. Dalton just got through reading "Jennifer Government" which is from a new author for him. He was reading it for the teen book club he is in and really enjoyed it. He wants to read the other book by this author, Max Barry, which is entitled "Syrup". I keep trying to order the Jofina books on tape but can't seem to get hold of them. I am reading "The Red Tent" for a book club as well.

More later,
Deb



October 14, 2007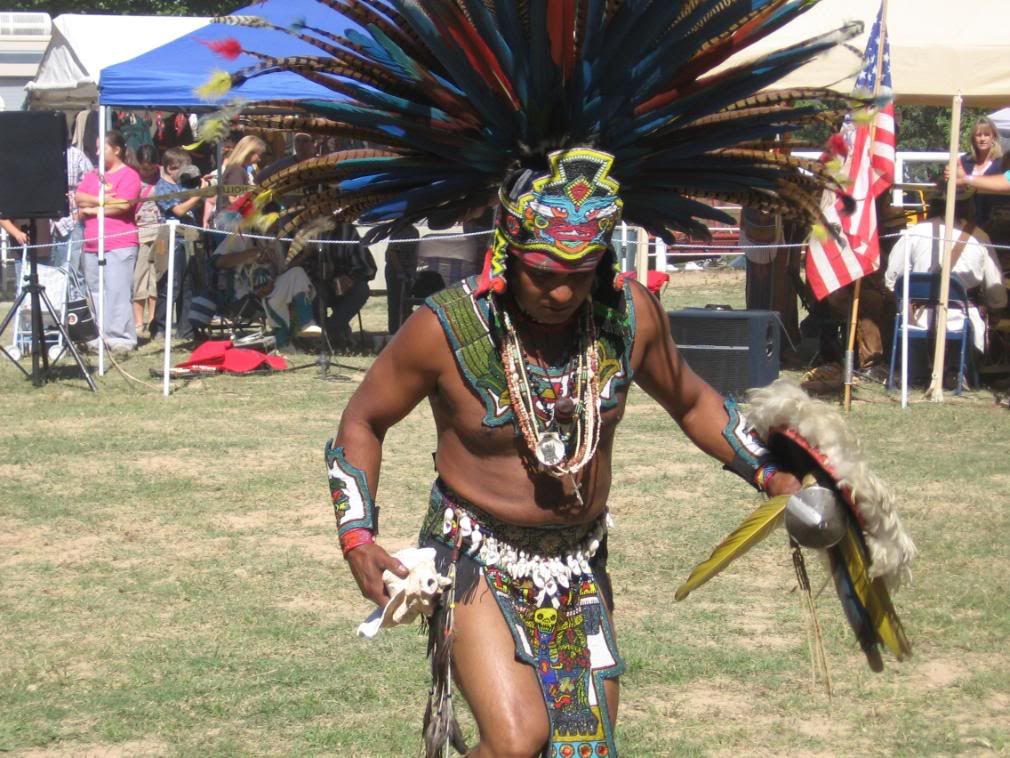 We had a fantastic weekend! We started off by going to the Native American Pow Wow at Tannehill Trails. They had tons of booths; some with authentic wares and some were a little more manufactured. Dae bought her a feather headdress and a little rag doll that she named Little Rainbow after its creator. She played with Little Rainbow all weekend long. There was a band there that I had seen several years ago at City Stages that I had always remembered and thought was awesome. The lady who did the voice overlay in the Pocahontas Disney movie was there along with several drummers and dancers. It was really a lot of fun. I especially enjoyed the Aztec Indian and his headdress. I will come back and post a picture later. There was also a lady there who was a descendant of the lost tribe of Roanoke. Dae was not feeling well, so we did not get to hear her entire speech; although, I really did want to go back and listen to her as she was very informative and interesting.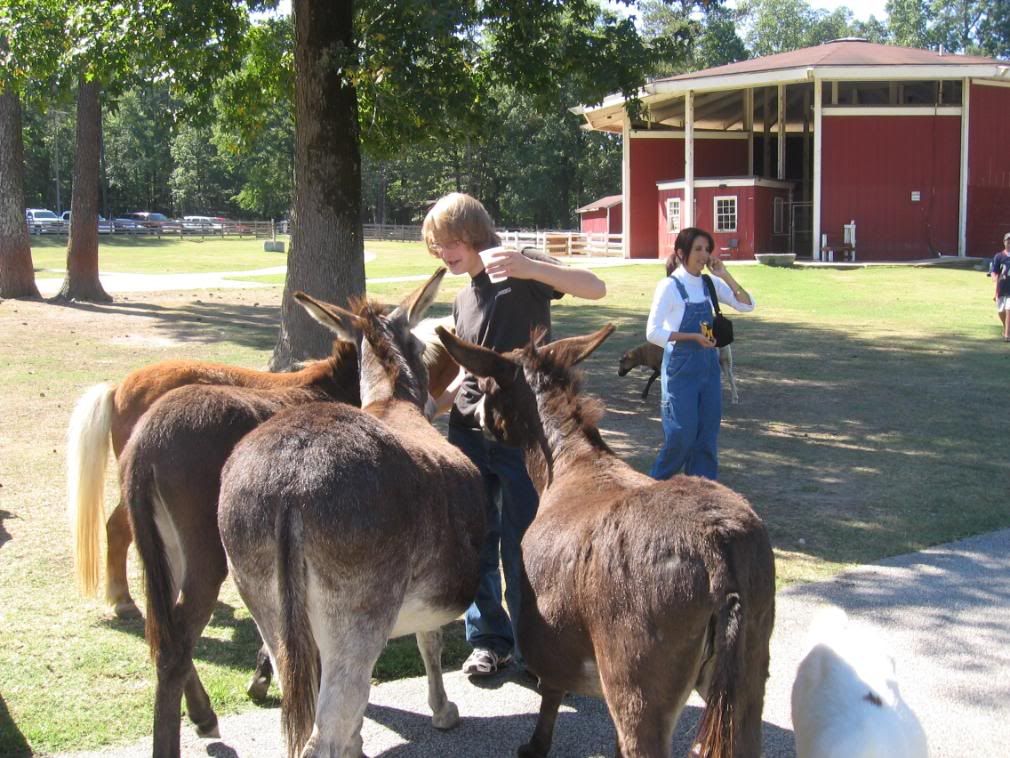 After we left the Pow Wow, we went over to Oak Mountain State Park to spend the weekend camping with the Aycock Family. Ms. Deirdre was the most wonderful hostess. She had saved our campsite for us by putting up the cutest little tent. We just hung out for the rest of Friday. Saturday we went to the wildlife refuge where there were baby flying squirrels. They were so beautiful. We also went to the petting farm. As many times as I have been to Oak Mountain, I have never visited the Petting Farm. I will never go back to Oak Mountain without visiting it again though, I can assure you. It was really a highlight. There all sorts of chickens, turkeys, donkeys, and goats just wandering around. They all come up to you for a snack and let you pet them and follow you around. I loved it. I will post a picture later. We also went down to the local beach as well as the campsite beach and also went on the treetop observatory hike. Deirdre cooked for the weekend on the open fire, and that was lots of fun to watch. She is really good at it. I will have to try my hand but on a smaller scale. I am afraid that my family might starve if they had to wait on my to cook a full meal on the fire. We did end up leaving Saturday night instead of Sunday morning. Dalton just really wanted to go home. He has not been as adventurous since he got back from out west, but I am sure some of that will pass in time. Anyway, thanks to the Aycock's!!! We had a fabulous time!

Deb



October 11, 2007

Today I am just hanging out and doing nothing. We got up this morning and decided that we were not going to go to Children's Theatre. We are marking this off of our list. We sometimes have to decide what is a "must" and a "want". I am sure the production was wonderful and hated that we missed it, but today we just needed to be still.

Deb

October 9, 2007

Today was McWane Center day. Dae has started to really enjoy her science classes and tells me all about her teachers. She learned about sea creatures today and got to go down to World of Water and interact with several animals. She loved that. We also visited the new permanent exhibit "Sea Monsters" which is really good. There are several specimens that were discovered right here in Alabama. There is a 50 foot sea turtle that Dae just could not get over. There is also a "game" about the food cycle that we are going to have to figure out. We didn't get to explore the entire exhibit, but I am sure we will next week.

Deb

October 8, 2007

Somebody call 9-1-1!!! Yes, it is true! Dae talked me into doing yoga with her tonight! She then explained to me that it was SUPPOSED to be soothing and calming and not filled with the screams of pain, groaning, and cries of help that I was yelping out! Just kidding! It was actually pretty fun! I am supposed to start back taking Yoshukai with them next month, so I need to get started on something. I have been stretching with them for a few weeks, and we have talked about starting a walking program. I can see it now that the weather has cooled down some.



Yesterday was a big day. We had a small party for Dae at the park. It was just family and a few friends. It was actually really nice. The weather was just right as was the company. We brought jump ropes, sidewalk chalk, bubbles, and a football. The kids had a blast. Two of Dae's friends ended up coming home with us, and Dalton went home with some of his friends. We did not exchange kids back until around 8:00. Like I said, it was a big day. The girls had some very creative play that was very interesting to listen to.



Dae got her requested housecoat from Papa and LOVES it. She insisted on taking it to Nana's when she went to spend the night Saturday night and has been wagging it around. She also got a VERY nice sewing machine from Mamma Nana, a Mp3 player from Aunt Tamera, a beautiful homemade prairie doll from the adorable Athena, beautiful JuJu and totally awesome Ms. Vesta, an awesome new Webkinz and "bling" from BFF Bri, a hand drawn piece of art and homemade dice from the very talented Anna, homemade earrings from the very artistic Abbey, an awesome card from the very hip and stylish Aleia, a piece of bead art and a handdrawn kitty from the very handsome Sawyer, Littlest Pet Shop house and accessories from Nana, a jewelry making kit from Mamma Nanna, a mosaic craft kit from the beautiful Ms. Lily and Ms. Amanda Kate and I just don't know what else. Thanks to everyone that came and thanks so much for the wonderful gifts. They were certainly not necessary but certainly well appreciated! Dad and I gave her a beautiful Oneida silver teapot, a butterfly painting on canvas, and a pink camouflage shirt. She is ready to go now!

Today was Columbus Day. I really have mixed feelings about celebrating Columbus Day. My husband and I both, therefore our children as well, have Native American ancestry, so which way do you go with that? Was he a hero or a tyrant? We watched a great documentary on History Channel tonight that went through all four voyages that Columbus took. It was very good, and I learned a lot. You hear all about his first voyage and maybe some on the second but not the third and fourth. I had no idea that he was stranded on an island, mutinied, refused refuge, and then returned in shame to Spain. He not doubt was a genius and accomplished much but at what price?

Today was a sad day. David took off the two kittens today. He took them to my aunt's who said that she was going to keep them both inside, but we were very sad for Pretty Kitty. We made this decision because she was obviously trying to wean them from her. I don't mean from breastfeeding but from her. She would hiss and slap at them every time they came near her. I am going to research and see if that is normal behavior because up until a couple of weeks ago, she went everywhere with them, was teaching them to play and hunt, cleaning them, and just really nurturing them. So maybe it was just time for them to go. It was still very sad....

Dae is still working on her typing, piano, yoga, reading "Ginger Pye", and watching "Anne of Green Gables". Dalton is still working on his Biology, Mythology, and brushing up on his German. We are very disappointed that Rosetta Stone will no longer be offered through the library, so we have decided not to start the Spanish program through them and then have to change after just a couple of months. Dalton will continue to brush up on his German until I find him a new and comparable Spanish program to get started with.

We have much to do this week. We have McWane classes tomorrow, and both kids want to go early so that we can check out the new Sea Monsters display. We also have "Wind in the Willows" at Children's Theatre, the Native American Pow Wow at Tannehill Trails, Tuesday and Thursday night Yoshukai classes, and a camping trip this weekend. In addition, we have a Teen Scene to go to Sunday evening. Somewhere in there we need to fit in volunteering at the library, and Dalton wants to have a movie day at the $1 theatre. Do they think I am Wonder Woman? Geez!!!

See ya soon!
Deb





October 6, 2007

Yesterday was Ms. Daisy's 9th birthday. She had a great day. She woke up to Pearl (the Hermit Crab) having finished molting and having moved into a huge shell. This shell is three times the size of her old shell. We went to Ed's Pet World and bought 5 new shells for Pearl to try out. She did try each one on, which Dae got to watch her do, and then she ultimately went back to the big shell. She seems to be happy in it, albeit a little slower than usual. I did see Violet (the other Hermit Crab) walking around in the crabitat last night, so she must be getting ready to change shells as well. She has been buried for several days molting.

Dae and I started watching "Anne of Green Gables" the movie. It is funny to "see" a book and compare it to what you had imagined. It is good so far, but it skips a lot. Dae said she was glad she read the book first.

Dalton is about half way through reading the 7th Harry Potter. He said it was worth it to go back and read all of the other ones again. It had been years since he had originally read them. He also worked on his bike with his Dad and they also went on a nighttime trip in the woods to explore the night life. We have been giving him a lot of time to play on the game since he got back from his trip, and he has taken full advantage of that. I don't see how that is so interesting. It would drive me crazy to sit that long in front of a game. He said he is getting tired of it, so I am hopeful that he will move on to something a little more productive. If not, I guess we will have to help him along.

Dae has been doing Yoga lately. She had mentioned to Ms. Vesta that she wanted to learn Yoga, and so Ms. Vesta is going to start doing a short class at park day for the kids. I also had a couple of books for her to look at and have ordered several "Yoga for Kids" books from the library. In the meanwhile, we discovered on Video on Demand about 20 full Yoga classes. She has done one of those for about 4 days. We also found out that the Graysville Community Center offers free Yoga classes to its members. I am going to go and check that out and see if there is an age limit. If not, we may look into doing that.

Oh yes! I almost forgot! Dae has opened a restaurant for her Webkinz. It is called Groovy Loovy Cafe. She worked for a long time today on a menu. She has an assortment of drinks, entrees, side items, deserts, and soups. We had a great time putting that together. It was interesting watching her do this on her own, when if I would have asked her to do it, it would have been like pulling teeth. She sat for about an hour coming up with items, prices, spelling, and neat handwriting all on her own accord. It is amazing what they will do for "fun"!

See ya soon!
Deb Spradlin


October 3, 2007
Hi Guys!
Guess where I am? I am writing to you from the McWane Center! Dalton is in his class right now, and Dae and I are hanging out in the media center. She is playing on the computer next to mine. When I get through blogging, we will go and explore the Adventure Halls. We did notice on the way in the new Sea Monsters exhibit which is supposed to open this weekend. It looks really awesome. I can't wait to come next week and check it out.
Dae's birthday is Friday, and she is on the count down. I posted a list that she gave me of gifts in the September section, but she has now given me a new list since we got back from the beach. It goes a little something like this:
Sea bed cover
Sea shells, star fish, etc...
Fishing Net
Fishy lamp
Sea curtains
Mini boat
Mini mermaid statue (spelled stachew)
Sea shell chandelier (spelled shandalir)
Mermaid picture (spelled pictcher)
Mini sea shell trunk
What do you think she has on the brain? She must have had a good time at the beach... In light of this, she has come up with several sea crafts to make. She has already painted a large gourd with a sea scape and has now cut styrofoam balls in half in expectations of painting them and turning them into jellyfish. Do I encourage this? Absolutely!!! Oh yes, she has stated she wants to be a marine biologist; therefore, she needs to learn to scuba dive...
Speaking of the beach, I have not blogged about that yet, or have I? I will have to go back and check on that. Maybe I will write a little diddy right now We had a blast, but maybe a week was a little too long... Dalton was not nearly as excited as he has been in the past. I am sure that is mainly due to being 14. He seemed to have the most fun digging in the sand at night. Dae just loved every minute. She loved looking for shells, digging in the sand, crabbing at night, going to shops, looking at hermit crabs, swimming, and just everything. She had a blast. Both of them loved the huge jellyfish we found. Dae also found what looked like a baby lobster. The love bugs and biting flies were a true nuisance..., but that's okay. We also noticed that the grasshoppers and dragonflies were HUGE!!! The last day we were there it was gearing up for a great big storm. We went out on the beach, and we were the only ones there besides the news crew. It was a different kind of beautiful and a little bit scary. Believe me, we didn't stay long. We went with another homeschooling family and the kids had a blast. The teens seemed to start getting edgy at the end, but for the most part, they all did really well considering that we were together for eight days. Check out our Gulf Shores 2007 Photo Show!
Here are some questions that we still need to research:
1. What is inside a jellyfish?
2. Look up a baby lobster.
3. Do clam shells grow?
4. Why are all the shells on the beach broken?
5. Why are all the sand dollars on the beach broken and dead?
6. Love bugs.
7. Biting flies.
8. Can hermit crabs have a dirt substrate?
9. Why did my bottom lip swell up?
10. How do sand dollars move?
11. Why do the sand dollars turn white and lose the hairy overlay?
Anyway, the hermit crabs have buried themselves, and we are presuming that they are molting. This is driving Dae crazy because she cannot move them or even touch them right now. All of the books say that it could take 4 to 8 weeks. In the meantime, Dae is reading all of the hermit crab books she can find. She is going to be a bonafide hermit crab expert by the time they come out of molting. She is now asking for a water hermit crab. I guess sometime in the future we may invest in a large tank and maybe have a salt water habitat. It would be really cool to have some of the tropical fish and maybe an anenome.
Hasn't the weather been gorgeous? We have been spending more time outdoors and have 3 camping trips on the calendar. We have also reinstated our 5:00 rule. That rule states that we will have no junk T.V., no junk computer, and no junk game playing before 5:00 p.m. We do away with this rule during the really hot weather in hopes that they will get their "junk" time over and then head outdoors when it cools off in the evenings. Believe me, this is not the most popular rule in the house, but they have gotten used to it and do not really complain about it anymore.

What's Dalton up to? He is still working on his Biology, Mythology, and volunteering at the library. He cannot take Yoshukai right now, which he is really not happy about. We are hopeful that our new insurance will kick in and he can go to the doctor next week. He finished Harry Potter 6 today and will start number 7 tomorrow I am sure. He is also wanting to piddle around with fixing his bicycle, so we are stocking his toolbox. He like his McWane class today and both he and Dae said that they wanted to take the classes again next semester. He also said that he was interested in a new teen book club started by Lisa Hicks... Thanks Lisa! So we will be checking on that shortly.

Write more soon,
Deb