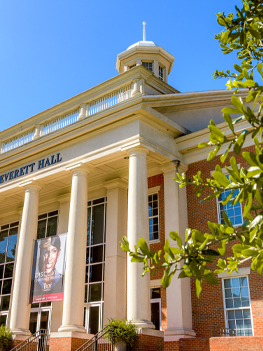 My name is Angela Sullivan and I am the Program Coordinator for ACCELERATE Dual Enrollment Online with Troy University. Let me provide some details about the program for you, and if you would like to go over any of the information over the phone, I'll be more than happy to do so.
ACCELERATE Dual Enrollment Online is a program designed to allow students to take online courses with Troy University's eTROY and earn high school and college credit at the same time. The benefits of the program are obvious – Students get a jump-start on their college career, learn time management and study skills for the collegiate level, and have the opportunity to take enriching courses like foreign languages and upper-level math classes. Plus, they will enjoy the flexibility of online classes – They can complete the work where ever they have Internet access and whatever time is convenient in their families' busy schedule. Believe it or not, parents will actually save money with this program. (I'll get into the costs in a moment, but a student taking 12 credit hours worth of college courses with ACCELERATE will save more than $6,000 than if they had taken the courses in a traditional college semester, living on campus)!
The admissions requirements for the program are:
3.0 cumulative high school GPA
Minimum of 20 on the ACT or 950 on the SAT
Must be in the 10th, 11th, or 12th grade.
For students who want to apply, they simply need to:
Submit the eTROY application and choose "ACCELERATE High School Dual Enrollment" as the intended degree program. Please follow this link to the application: https://www.troy.edu/

Submit a high school transcript (unofficial is acceptable).

Submit test scores (if these are already included in the high school transcript, they do not need to submit a separate document).
Students can take general studies or elective courses. We encourage ACCELERATE students to work with their school counselor to determine which classes will also be eligible for credit at the high school level. If you would like to know whether a course is a good choice toward a specific degree program, please contact me to find out. All of these classes are designed to be easily transferable to any regionally SACS-accredited institution.
Our eTROY calendar is based on five 9-week terms. What this means is that your students could take two college courses per "semester." How you all choose to structure your schedule is entirely up to you. Most of the school counselors I've talked to have said they will let their students dedicate one class period per day in the library or a computer lab designated to working on their college class.
The cost of ACCELERATE Dual Enrollment Online is:
Tuition: $260 per credit hour plus $8 an hour for the technology fee (most courses are 3 credit hours, so you are looking at about $804/course)

One-time application fee: $30

Books: prices vary, but $100 for books for once course is a generous estimate
If you have the PACT plan, you can start using it three years prior to high school graduation to pay dual enrollment tuition.
I will serve as the liaison between Troy University and ACCELERATE schools, students, and families. If there is any way I may make ACCELERATE Dual Enrollment Online more user-friendly, please let me know. Thank you so much for your time, and please do not hesitate to let me know if I may assist in any way!
ACCELERATE Program Coordinator
eTROY Student Recruitment
100 University Park Troy, Alabama 36082