"Whispers From the Past: A Native American Experience"
at the Aldridge Gardens
Sunday, October 7, 2012
1:00-8:00 p.m.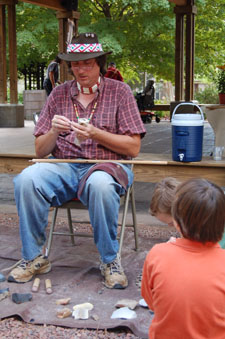 Take a trip back in time to rediscover the culture and contributions of Native Alabamians. Native American life will take shape through demonstrations featuring flint knapping, cooking, hunting and weapons, and activities like leaf pounding, beading, grinding corn, gourd painting and making clay pots. Children will be able to try their hands at games like Atlatl and Chungke and activities featuring Native American temporary tattoos, a scavenger hunt for native medicinal herbs and the Three Sisters Garden. Enjoy the sounds of drums and flutes and the highlight of the day dancing by the Sylestine Legacy. Admission is free with a nominal charge for a couple of activities. Food vendors will sell fry bread, Indian tacos and roasted corn, and other vendors will sell t-shirts, arrowhead necklaces, baskets, coins and hair feathers.