Wednesdays for Homeschoolers: Fall 2014
Join us twice a month for nature-infused programming that will complement your homeschool curriculum. Program times are 2:00 to 4:00 pm.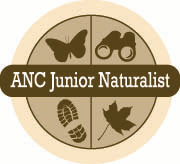 ANC Junior Naturalist Program
Featuring This Fall:
Fundamentals of Field Biology—collect
data with a field notebook and observe
seasonal population changes
Ethnobotany Basics—learn to identify edible and medicinal plants
and their relationship with the environment
ID Me!—use field guides and identification books to discover more about nature's flora and fauna
"Learn and Earn" badges will be offered for all ages. Parental
participation is strongly encouraged!
These two-hour sessions will provide time for families to learn together. Age appropriate focus groups will also provide children with an enhanced learning experience.
Session times are from 2 pm to 4 pm, on the first and third Wednesdays of each month, beginning August 6 and ending November 19.
Cost for all eight sessions is $40.

Contact
Rebecca Bearden
for more information.
Alabama Wildlife Federation
Mon - Fri:
8 am - 6 pm
3050 Lanark Road
Millbrook, AL 36054