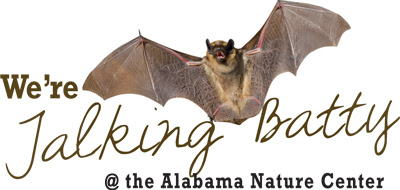 Thursday, March 10th at 6:00
FAMILY FUN EVENT...Join Evan Lawrence, Biology Aide for the Alabama Department of Conservation and Natural Resources, for a Bat Talk! Learn about the numerous threats to local bat populations, the ecological benefit of bats and how to identify bats in the wild…then take to the trails in search of bats!

Only $5.00 per person. Event begins at 6:00 pm. Come at 5:30 to enjoy a BYODinner, and stroll through the Discovery Hall. The gift shop will be open.
Alabama Wildlife Federation
Mon - Fri:
8 am - 6 pm
3050 Lanark Road
Millbrook, AL 36054